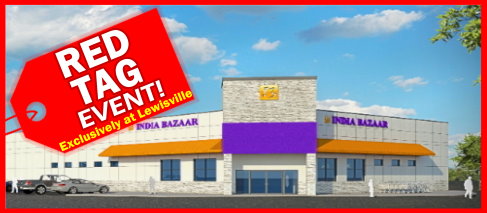 2151 S EDMONDS LANE LEWISVILLE TX 75067. | PH: 972 312 0114
Store hours: Fri to Sun- 10AM to 10PM
Event Dates: July 28, 2017 – July 30,2017
After the success of India Bazaar West Plano's Grand Opening Celebration we have another fun-filled savings weekend planned for our Shoppers. So Book your dates from July 28- July 30 for our Mega Savings Red Tag Event! The 3 days event will be held at India Bazaar's Lewisville location.
The Lewisville's Exclusive Red Tag Sale will give our shoppers an incredible savings opportunity. As all our events our full of fun activities this one will be too. Our shoppers will be able to try their luck and win prices at Spin the wheel. Also, there were will Free Giveaways and Food Sampling for everyone to enjoy.
Incredible Red Tag Sale for a Super Savings Weekend!