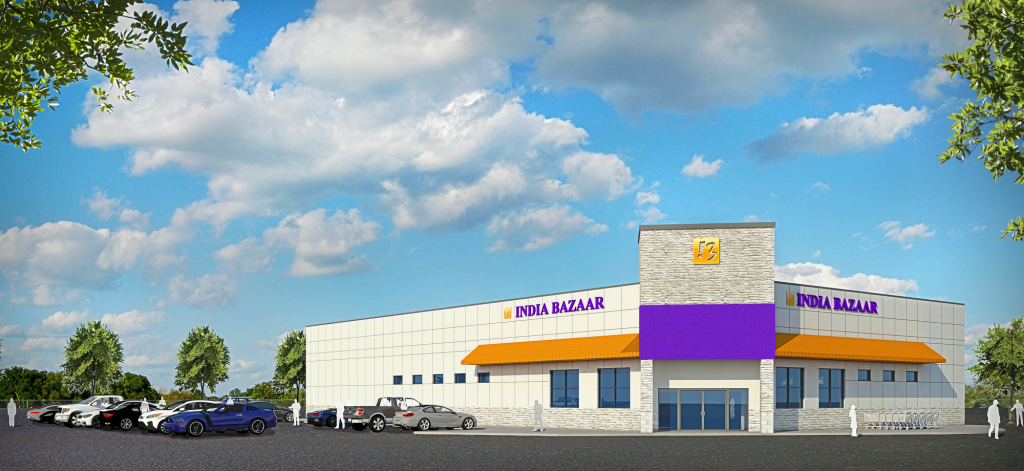 2151 S Edmonds Lane Lewisville Tx 75067. |

Ph: 972 312 0114

Being People's Store,  India Bazaar is yet again bringing a location closer to people's homes. We are now opening on public demand in Lewisville, Texas.  This December the brand new India Bazaar location in Lewisville, Texas will open its door to the community.

The newly constructed India Bazaar Store at Lewisville has a large modern floor plan so its customers can have the enhanced comfortable shopping experience. It will be equipped with a large fresh produce section loaded with freshest vegetables and fruits, frozen section packed up with delicious deserts and nutritious ready to cook options plus aisles loaded with a large variety of Indian snacks and packaged products to choose from.

Like all our locations even at India Bazaar Lewisville the whole focus has been on providing the customer an amazing shopping experience, After all Nobody gives you India like we do!

India Bazaar Lewisville is located at : 2151 S Edmonds Lane Lewisville Tx 75067.

With India Bazaar's Universal Rewards Card, shopping experience has just gotten better. Now with this new location, shop more, save more, & drive less. That's why we proudly call ourselves "The People's Store"
India Bazaar Lewisville's Grand Opening Celebrations!
Took Place on: Dec 23, 2016 to Dec 25, 2016!
India Bazaar has created history yet again with the success of  it's Lewisville location's Grand opening event. Complemented with the happy faces of our community members who enjoyed Free Food Sampling, Iskon Temple Mega Feast, Free Goodies & Giveaways, Photos with Santa, in store specials, Raffle entries and a lot more.
Now it's time to reveal the names for India Bazaar Lewisville's Grand Opening Raffle Winners!
The Lucky Winners are: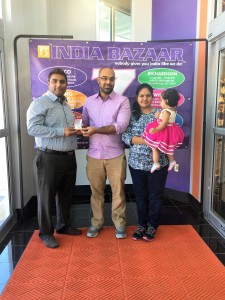 Arunachalam Venkatramani (from Oklahoma) – Winner of Gold Coin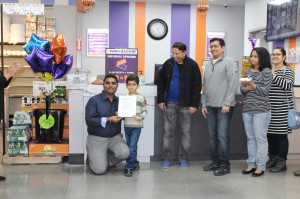 Krish Kulkarni c/o Prashant Kulkarni- Winner of Free Ticket to India.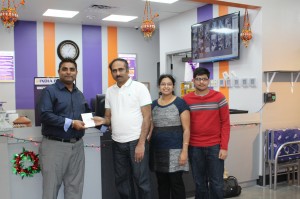 Siva Tallam- Winner of iPhone 7

Congratulations to all the Winners!
Travel Sponsors: ISHA TRAVEL INC.

101 Pecan Valley Dr, Irving, TX 75063
Disclaimer:
Isha Travels Terms and Conditions for the air ticket:
Winner shall be responsible for supplying valid passports and visas and, where necessary, for obtaining appropriate health documentation. The winner shall be responsible for obtaining their visa at their own expense. The winner shall be in possession of a valid passport with a validity extending up to at least six (6) months from date of departure.

Isha Travel shall not be responsible for arranging travel insurance, medical insurance, any transport expenses other than the air ticket , any meal expenses, any expenses of a personal nature, any other travel related expenses or such other expenses which have not been specifically included in the terms and conditions of the prize.

Isha Travel shall not be responsible for the inability of any winner to utilize the prize, for any reason whatsoever, including but not limited to non-issuance of a visa.

Isha Travel shall not be responsible for claims of any nature whatsoever for any loss, illness, bodily injury including death of winner during and/or in course of travel

Prize constitutes one most economical Round Trip Air Ticket from Dallas/Fort worth, USA to any one major gateway/city in India, Pakistan, Nepal or Bangladesh

Winner is responsible for paying any taxes, stopover charges, change and cancellations fees and baggage fees as imposed by Airline Carriers and conditions as governed by International Air Ticket carriage

Air Ticket validity is based on dates of travel during off peak season taking consideration of any black out dates as imposed.

Winner should claim the prize with in one week of the lucky draw and redeem it by calling Isha Travel and booking future date travel.
India Bazaar Disclaimer: India Bazaar merely acts as a platform between the individual deemed as winner and Isha Travels and does not necessarily accept any liability or any role post raffle in this promotion.