Ekal Dallas:
The Ekal Vidyalaya Foundation is a charitable trust that initiates, supports, and runs non-formal one-teacher schools (popularly known as Ekal Vidyalayas) all over the country. With the participation of numerous non-profit trusts and organizations, this program has now become the greatest non-governmental education movement in the country.
Ekal Video
Karya Siddhi Hanuman Cultural Center:
Hanuman Cultural Center (HCC) was inaugurated on July 3rd 2009 by Sri Ganapati Sachchidananda Swamiji, Pontif of Avadhoota Dattapeetham. Hanuman Cultural Center has a large multipurpose hall & 6 class rooms to conduct various activities. The main hall is a shared area with a mandap (worship area) and seating area to accommodate 500 devotees(about 3650 sq ft). Class rooms are of 280 sq ft each or two class rooms can be combined to create one larger room of 560 sq ft.
Click for more.
Vibha:
Vibha is a volunteer-driven non-profit organization dedicated to creating brighter futures for underprivileged children. The Dallas volunteers are a group of energetic and enthusiastic people from all walks of life, brought together by a strong belief that we can positively impact the future of India – even from halfway around the world.
Vibha Dallas
Chetna:
CHETNA is a 501(c)(3) non-profit organization for the prevention of domestic violence in the South Asian community of Dallas-Fort Worth and the surrounding areas. Click Here
Maiti Nepal:
Ms. Anuradha Koirala is the Founder and Executive Director of Maiti Nepal. Born in Nepal and former English teacher, Ms. Koirala started Maiti Nepal in a small house in Kathmandu with her own savings. Today she is a widely recognized activist and lecturer who has dedicated her life to combating the sexual exploitation of women and children.
Her accomplishments have been recognized through numerous awards. Her work is often dangerous and requires great personal sacrifice. The criminal elements that "deliver" young girls are a ruthless enemy and have political connections at the highest levels in India and Nepal. Maiti Nepal's main office in Kathmandu has been destroyed twice and Maiti workers must travel with a bodyguard when overseeing rescue missions in India.
Her commitment has been an inspiration to her largely volunteer staff. Most of the workers are rescued girls and young women who are healthy enough to work. "They need little incentive from me," states Ms Koirala. "They are working to help their sisters and they know the horror of the victims." She adds, "Society rejects me and my girls, but they are the most important thing in my life."
http://www.friendsofmaitinepal.org/
__________________________________________________
MAVTAR VRIDHASHARAM, VIRPUR GUJARAT, INDIA
India Bazaar Adopts these old age home folks who are in need for basic support. all donations collected at India Bazaar locations will be sent 100% directly to Mullu bhai who is the care taker of this great place.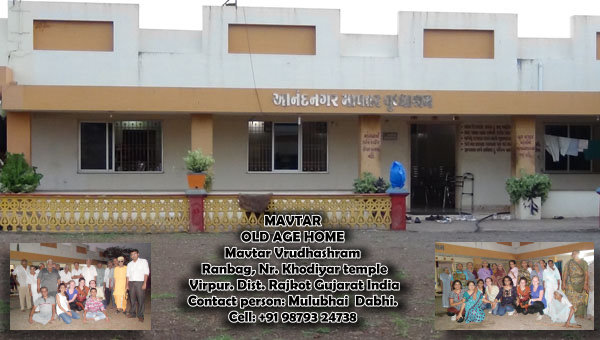 Read more about this place by clicking here. also send us your feedback at Support@IndiaBazaar.us