2151 S EDMONDS LANE LEWISVILLE TX 75067. | PH: 972 312 0114
Store hours: Mon – Thu: 10AM to 9PM | Fri – Sun: 10AM to 10PM
Event Dates: Sep 01, 2017 – Sep 04,2017
After the success of India Bazaar Lewisville's Red Tag Event we have another fun-filled savings weekend planned for our Shoppers. So Book your dates from Sep 01- Sep 04 for our Mega Savings Labor Day Sale Event! The 4 days event will be held at India Bazaar's Lewisville location.
The Labor Day Sale Event will give our shoppers an incredible savings opportunity. Our shoppers can enjoy the fun activities like – Face painting, Spin the wheel, Free food Sampling and lot of Giveaways. Plus we will have an amazing Labor Day Weekend Sale so our shoppers can shop as much they want while enjoying huge savings!
Activities Schedule:
Henna Tattoos: All 4 Days (Sep 01- Sep 04) – 12PM to 8PM
Face Painting: Sep 2 – Sep 3 :  4PM to 8PM  & Sep 4 : 1PM to 5PM
Labor Day Sale, Food Sampling, Spin The Wheel & Giveaways.
Labor Day Sale BONUS OFFER!
Sep 01 – Sep 04 2017
First 50 Shoppers will Get an Exclusive 20% OFF India Bazaar Coupon with their purchase of $25 or more!
*Coupon will be valid at India Bazaar's Lewisville location only, from Sep 05 – Sep 30, 2017. Coupon cannot be combined with any other deal or offer.

LABOR DAY SALE!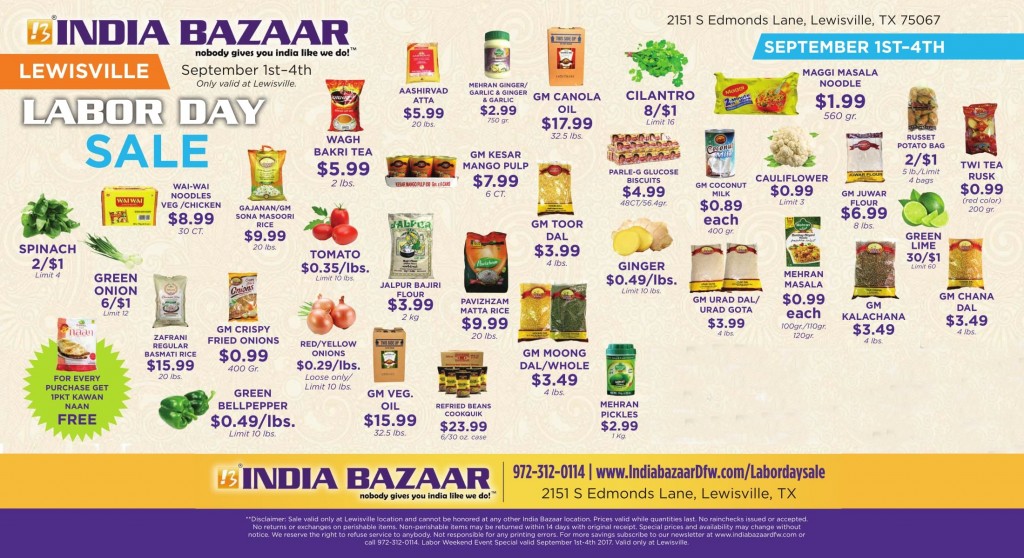 Click on the picture to Zoom in