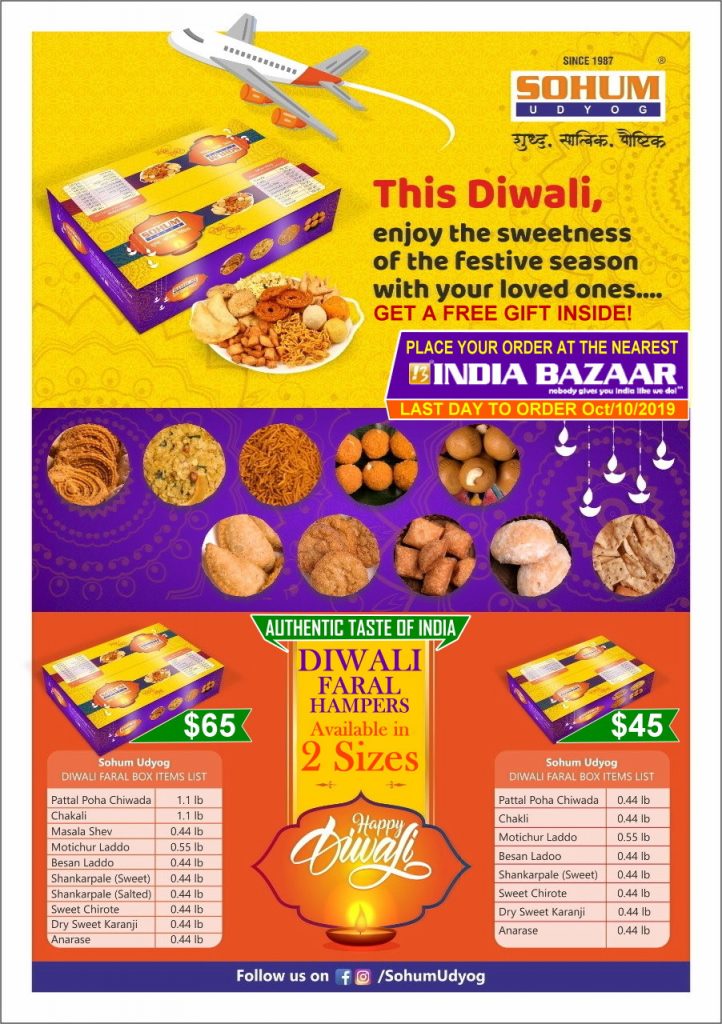 WE ARE NOW TAKING ORDERS FOR DIWALI HAMPERS!
Sohum's Special Maharashtrian Faral straight from India to your India Bazaar stores. Each Sohum Udyog's Diwali Hamper is full of Maharashtrian specialty snacks and comes with a FREE DIWALI GIFT like Diwali Lantern, Laxmi Pooja Kit Laxmi poster, Lahya, and Battase.
Hampers are available in two sizes, so you can order the one that suits you the best.
TO PLACE YOUR ORDER:
Visit your nearest India Bazaar location
Call-972-312-0114
BOOK these Exclusive Sohum Diwali Hampers and give your loved ones a traditional Diwali gift this year!
HURRY ORDERS CAN BE PLACED TILL Oct 11, 2019, 8 PM ONLY!
Disclaimer: By booking the hamper, the customer is agreeing to pay the full amount due on the day of pickup. Cancelation can be made before Oct 10, 2019, only. After that, all orders will be considered final. India Bazaar reserve the right to cancel any order without prior notice. Pickup will be available after Oct 20, 2019.  All orders must be picked up from the location the hamper is booked for. These orders are available for in-store pickup only and not home delivery.