Diwali 2017

Raffle Winners Announced
Diamond Ring- Kumar Kanan
Gold Earrings- Kanakrajah Kanjehthiran
Siver Coin-Satya Puppala
James Giwani
Kalpana Mirani
Bharat Polina
Rama P Garimidi
India Bazaar congratulates all the winners and thank them and everyone who participated in the raffle and in our Diwali Sale!
Disclaimer: Winners will be contacted at least three times on the contact info provided during participating in the raffle to inform about the win. However if India Bazaar is unable to establish any contact with the winner in those three times or one week for whatever reason, the winning prize will be passed onto the next raffle draw winner.
Preparations have already started for this year's India Bazaar's Diwali Dhamaka.
This Diwali India Bazaar is offering its shoppers savings opportunities like never before.
During Our Mega Monumental Diwali Sale we will have more than 40 items at amazing discounted prices available at all 7 of our India Bazaar locations.
Enjoy the Biggest Diwali Expo Showcasing huge collection of fireworks, pooja Items and all Diwali festive items.
At: Pavilion outside India Bazaar West Plano
From October 13–15, 2017.
The Mega Monumental Diwali Sale
To Zoom IN click on the Sale Picture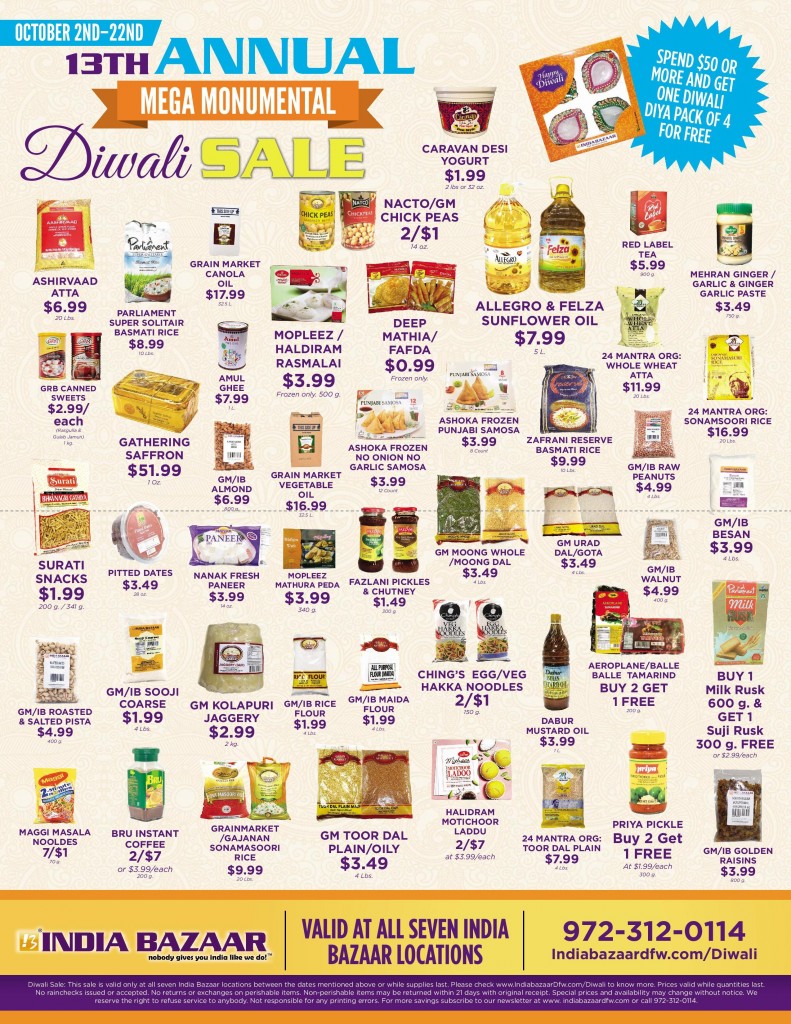 Fireworks available for purchase at India Bazaar [ Valley Ranch, Frisco, Plano, & West Plano]

Sat: Oct 14 & Sun: Oct 15, 2017
Wed: Oct 18 & Thurs. Oct 19, 2017
Hours of operation: 10am – 8pm
Join the Raffle as our Top Seven Winners will get a chance to Win
One Diamond Ring, A Pair Gold Earrings and Five Silver Coins.
Qualifying purchase limits under the raffle
$350 for DiamondRing, $300 for Gold Earrings and $200 for Silver Coin
Winners to be announced between October 23-25. All announcements will be made on Facebook.com/Indiabazaar andwww.IndiabazaarDfw.com/Diwali.
Disclaimer for Raffle:
All Raffle Prizes are sponsored by Tanmai Jewelers. IndiaBazaar merely acts as a platform between the individualdeemed as winner and the sponsor and does notnecessarily accept any liability or any role post raffle inthis promotion. Actual prize may be different than thepicture given here. All prizes will have to be claimeddirectly from Tanmai Jewelers at Irving Location